| | |
| --- | --- |
| The Probus Club of Ledbury | Church Lane, Ledbury |
Welcome to The Probus Club of Ledbury.
We are a non-political non-religious club for retired and semi-retired professionals and businessmen in and around the thriving market town of Ledbury, Herefordshire, and enjoy a membership of over 60 men. We meet every Monday at the Burgage Hall from 10 am to noon to enjoy a talk given by a wide variety of speakers on a huge range of subjects. Some of our talks are open to guests, where this is deemed appropriate.
The first PROBUS Club was formed in 1965 by the Rotary Club of Welwyn Garden City to cater for their increasing number of retired or semi-retired members. In the same way the Probus Club of Ledbury was formed in 1974 (initially under the auspices of the Rotary Club of Ledbury; it is now independent). To learn more, click here.
Its primary objective is to provide an informal meeting place for retired Professional and Businessmen (hence the title), for their mutual interest and entertainment. It is particularly intended to attract men who wish to make new friendships and find new interests, especially if recently moved into the district. Here is a list of Probus clubs in the UK.
So, if you are local to Ledbury and are a retired or semi-retired professional or businessman who is looking for intelligent conversation in a friendly, sociable group, why not drop by on a Monday morning and approach someone. You'll be pointed in the right direction and, if you like us, join us! Alternatively, download and complete a Membership Application Form and email it to our Membership Secretary. Be sure to read our Constitution and Privacy Policy first.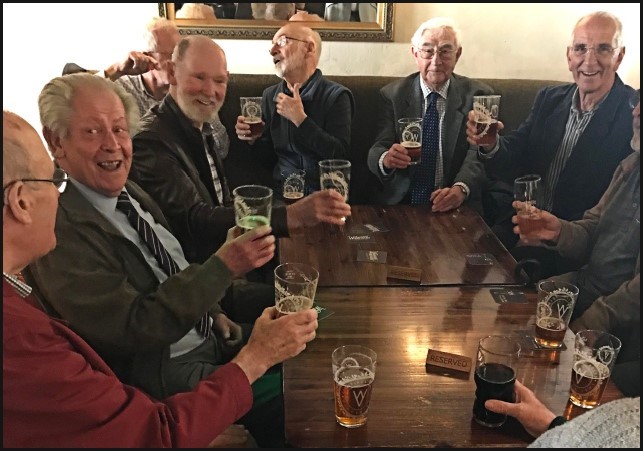 After our meetings, some members retreat to local hotels, inns or hostelries where issues of the day are discussed in vivid detail. Here, a group can be seen discussing the meaning of life, the universe and everything, in one of the pubs worth a visit.